Green Mountain Falls maintains a public trails system consisting of 20 miles of magnificent, pedestrian trails used year-round by locals and numerous visitors. These trails provide access to thousands of acres of national forest land, two scenic waterfalls and three large fishing reservoirs on the nearby North Slope of Pikes Peak.
#FFFFFF
Catamount Reservoir Closure Details & QR Code
For the best experience, download the interactive map and Avenza mobile app. Includes your position, contour lines, and trailheads. Usable offline if map and app are already downloaded to your cell phone prior to arriving at the trails.
For a low-tech experience, download the simple PDF File
#FFFFFF
AREA A Parking spaces on the northern side of Ute Pass Ave. from Oak St. to the bridge and the southern side of Olathe at Ute Pass Ave. Also at the Pool Park along Ute Pass Ave.
AREA B Parking spaces on the southwest side of Ute Pass Ave. beween Lake St. and Foster Ave. Also on Hotel St. between Ute Pass Ave. and El Paso Ave. and on the northeast side of El Paso Ave, just east of Hotel St.
AREA C Ute Pass Ave. at Mountain Rd.
AREA D Ute Pass Ave. and Joyland Church
Bikes are not allowed on any trails except the American Discovery Trail.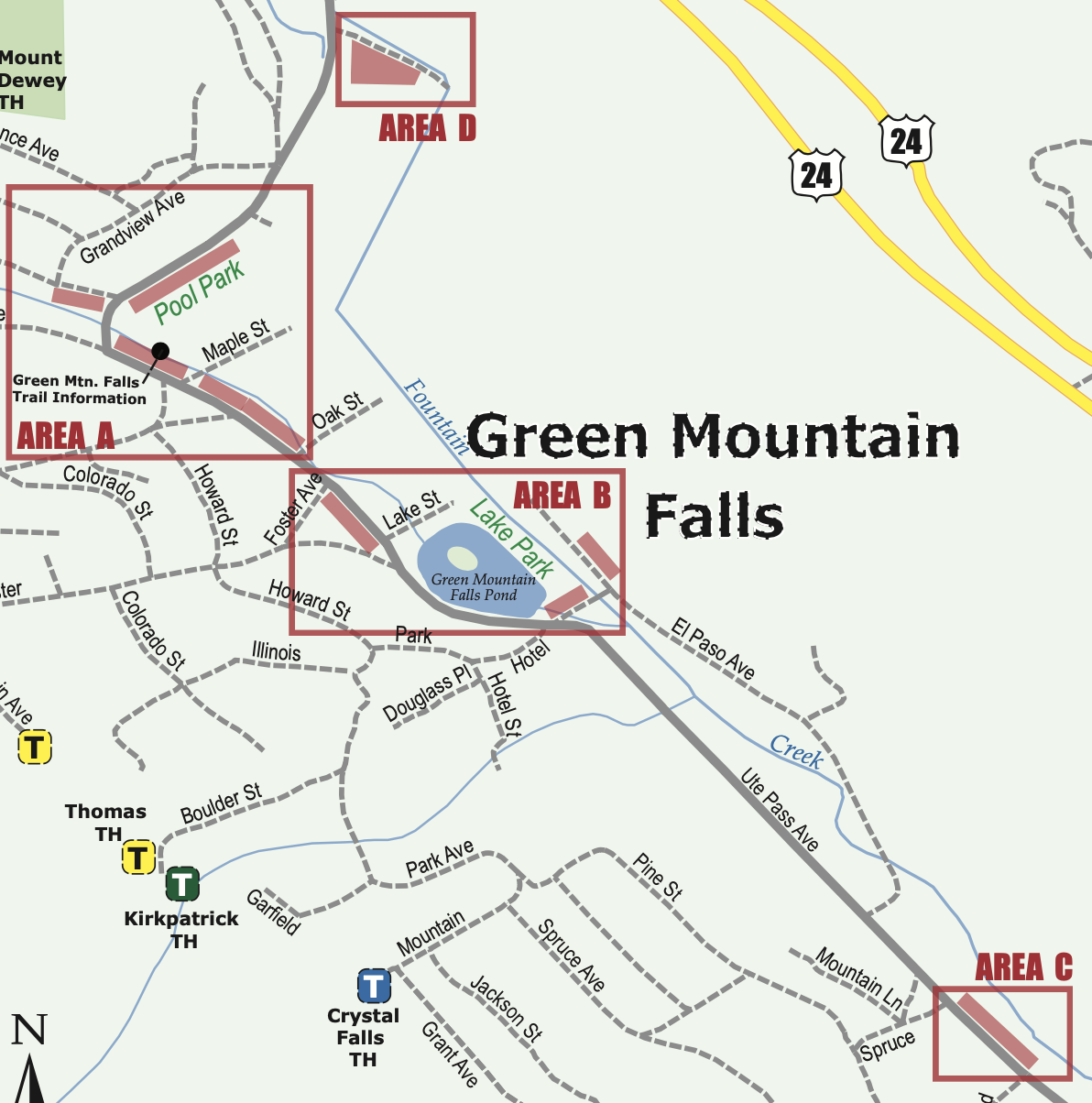 #FFFFFF
Be Respectful
Stay on the marked trails.
Pack out trash and dog waste.
Be Prepared
Bring water and sunscreen.
Wear layers and proper shoes for hiking.
Be Informed
Be knowledgeable of trail difficulty and
conditions. Check the weather.
Be Courteous
Keep residential roads passable for vehicles.
Keep dogs on a leash.
Be Appreciative
Participate in the quiet of the woods.
Observe wildlife from afar.
#FFFFFF
All measurements approximate (*Distances from the Welcome Center)
Trail Name
MarkerColor

Round Trip Distance
Vertical Gain

Trail Notes

American Discovery Trail ADT Logo

1.25 miles - one way 186'

Easy 
Bike Friendly

Bratton
Blue Dot w/Black B  

1.7 miles - one way 500'

Moderate  
Valley views Connects Dewey & Catamount

Catamount - "The Gem of GMF trails"
Blue Dot 

Catamount Falls: 2 miles* Garden of Eden: 4 miles* Reservoirs: 6.3 miles* 1600'

Moderate 
Catamount Falls -> Garden of Eden meadow -> Reservoirs Scenic outlooks

Conn

.2 miles* Flat

Easy  walk along the creek Art walk, shopping, food

Crystal
Blue Dot 

3.6 miles* 1700'

Difficult  
80+ switchbacks, steep

Dewey (Top)
Purple Dot 

2.3 miles* 720'

Moderate 
Very little shade

Dewey/Bratton/Catamount
Loop
Purple Dot  & Blue Dot w/Black B 

4.2 miles* 1450'

Moderate 
Very little shade

Kirkpatrick
Green Dot 

1.6 miles - one way* 240'

Moderate 
Connects to Wallace trails

Pittman/Turrell Trails
Start at Joyland Parking Lot

1.25 miles 300'

Easy 
Family-friendly Scenic view of town Turrell art

Thomas
Yellow Dot 

2.6 miles* 360'

Moderate 
Crosses Catamount Falls, Connects Catamount & Crystal Falls

Wallace Reserve
Park at Ute Pass Ave & Mountain Rd

2.0 miles Various

Easy 
family-friendly Various looping connections